Kimi ga Shine ―Tasuketsu Death Game― (キミガシネ ―多数決デスゲーム―, Kimi ga Shine ―Tasūketsu Desu Gēmu―?) is a free online Japanese visual novel created and developed by Nankidai. It was originally released on NicoNico for the browser. With permission, it's been translated into English by vgperson as Your Turn to Die -Death Game By Majority-.
Chapter installments of the game have been released in two parts. Chapter 1, Part 1 was first released on August 28, 2017[2] with the latest installment, Chapter 3 Part 1, Section B released on May 30, 2021.[2]
Plot
Sara Chidouin and her friend Joe Tazuna are kidnapped and forced into playing a Death Game by a mysterious organization. They meet 10 others in the same situation as them, trapped in a facility with no way to escape other than play along.
Characters
Additional credits
Kimigashine is a freeware game using RPG Maker MV. It was originally written and produced solely by Nankidai using a number of resources, which he credits on the game page. As the game grew bigger he received help from a few others in subsequent chapters.
Spin-off game
The "sub-scenario" is a survival-strategy, resource management sim. A spin-off game where all the main participants of the Death Game will have playable routes.
In celebration of Chapter 2, Part 2's release, Nankidai organized a kind of stretch-goal on Twitter. If 2000 people retweeted his tweet he'd create and release a playable game.[4] The goal was overwhelming reached within 20 minutes.[5][6]
Manga
Kimi ga Shine was adapted into a manga series published by Monthly Shōnen Ace written by Nankidai and drawn by Tatsuya Ikegami. The first chapter was released in the April issue on March 26, 2019 and on April 26, 2019 online.[7] The first two chapters are free to read on all available sites with the following chapters released for a limited time.
The manga was picked up for English translation by Yen Press under the title Your Turn to Die: Majority Vote Death Game. The first volume was released on April 27, 2021.[8]
Other media
While most of the BGM is available with the game, the first official release of the soundtrack was sold at Comiket 2019[9] and a second volume on August 27, 2020.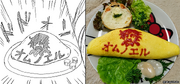 Nankidai often posts illustrations and 3-panel comics on his twitter. These are humorous non-canonical gag-comics that let him play with various characters who otherwise wouldn't interact in strange and surreal situations. These sketches often become the inspiration for many fans, who then create fanworks based on that art. For example, a June 3, 2021 sketch spawned an entire Twitter tag of Rio Ranger doodled omelettes: #オムノエルチャレンジ, Omunoerucharenji?, lit. "Omelette-Noel Challange"
RPG Atsumāru's official twitter publishes 4-koma comics. These are like Nankidai's casual twitter illustrations in terms of tone, but more polished up. The first 59 comics were drawn by Nankidai and the second series is drawn by Yusuke Higeoni. The comics were later compiled into a single volume titled, Kimiyon: Kimigashine Where No One Dies, and published on February 26, 2021 along with additional new work.
Translations
Various international fans and fan-groups have gone through the trouble of translating Kimigashine into other languages. While none of these can be counted as official, Nankidai has expressed appreciation for the hard work and dedication of his fans. The "unofficial" label of the translations are due to the fact Nankidai cannot verify the accuracy of the translations himself.[10]
| Language | Title | Link | Notes |
| --- | --- | --- | --- |
| English | Your Turn to Die -Death Game By Majority- | vgperson.com | Up to Chapter 3, Part 1, section B. |
| Portuguese | Your Turn To Die -Um Jogo da Morte Pela Maioria- | teapartyprojectrpg.tumblr.com | Up to Chapter 3, Part 1, section A. |
| Spanish | Kimi ga Shine -Juego de Muerte por Mayoría- | x-tsubasa-x.tumblr.com | The Spanish translation is based off of the English one. Up to Chapter 2, Part 2. |
| Korean | 네가 죽어 -다수결 데스 게임- (Nega jug-eo -dasugyeol deseu geim-) | caswac1.tistory.com | Up to chapter 1. |
| Russian | Смертельная Игра -Решением Большинства- (Smertel'naja Igra -Resheniem Bol'shinstva-) | vk.com | Up to Chapter 3, Part 1, section A. |
| Italian | Mors Tua -Deathgame per Maggioranza- | facebook.com | Up to Chapter 3, Part 1, section A |
Gallery
Trivia
References
External links
Community content is available under
CC-BY-SA
unless otherwise noted.